The Wolseley Hospitality Group
Regis Negrier
Group Executive Pastry Chef
Bio
1978
Apprentice
Auxerre Pastry Shop, France
1997
Head Pastry Chef
Hilton Hotel, Seoul
2005
Head Pastry Chef
The Wolseley
Regis started his career in France working in boulangeries, patisseries and Michelin-starred restaurants. He has worked extensively throughout the world in Lausanne, Milan, Mauritius, Frankfurt, Seoul and Beijing working for the Forte, Hilton and Kempinski groups. In August 2005, Regis joined the company as Head Pastry Chef for The Wolseley. He is now based at The Delaunay in the same role as well as Head of Creative Development for the group.
Behind the scenes with...
Having begun his career in France working in boulangeries, patisseries and Michelin-starred restaurants, as well as hotels around the world, Regis originally joined the group in 2005 as Pastry Chef for The Wolseley and now oversees development for the pastry team across The Wolseley Hospitality Group, based at The Delaunay.
What was your inspiration for becoming a pastry chef and how did your career begin?
I was inspired by my mother's cooking whilst I was growing up. Me and my siblings would all gather around her apron whilst she cooked things like rice pudding and Victoria sponge and waited to be allowed to lick the bowl. This was my first discovery of baking and pastries, and my interest only grew from there.
I started my career in a small town in Burgundy at age 15, as an apprentice in a patisserie. We made everything from scratch; from croissants to chocolate, to cakes and ice cream – at the time we even made ice fondant pudding paste, which isn't typically made anymore, it's mainly bought-in. It was fantastic. This is where I learned the basics of being a pastry chef. Later in my career, I spent some time as a pastry teacher in South Korea and Beijing. All the chefs I met there were German or Austrian, so I learned recipes and skills there that I eventually put to use at The Delaunay, where I started on the opening team nearly 12 years ago now.
What does a typical day look like for you?
I start very early in the morning, around 4am, to allow for the mise en place. We have so much to bake and get ready for the day before service starts so that the oven is free for the other chefs. Then during service, we have one person on my team who is dedicated to fulfilling orders from customers, and the rest of the team begins preparation for the next day.
What's the best thing about the job?
I just love it, and I have been doing it for so long now. It is rare to find a pastry chef my age, which is testament to how much I enjoy it. I like getting my hands dirty and being around the younger people in my team.
What I love about the craft itself, is that being a pastry chef is an interesting balance between maths and art. Everything is weighed out to the exact gram, and the method needs to be repeated exactly the same each time. But, at the same time, it must look fantastic.
If you had to pick one patisserie to eat from The Delaunay or The Delaunay Counter menus what would it be and why…
It would be the Kaiserschmarrn, which is a typical Austrian and Bavarian winter dish. It is made of pancake batter, which is lightened with a whipped meringue. It is then baked in the oven, chopped into small pieces and sauteed in a pan with caramel and butter, and then served with a plum compote. The best way to have it is in Austria, of course, but The Delaunay's is a close second.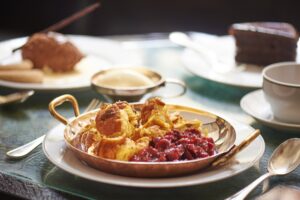 And finally, what's your favourite thing about working at The Delaunay?
I did the opening here, so I've been here 12 years now! There is a very large pastry department, so we can produce anything from A-Z, which lends to a great variety in the day. As well as providing all the pastries and à la carte desserts, we also work on custom orders for wedding cakes, which I love doing as it is different to my usual day-to-day and is a good opportunity for me to teach my team new decoration skills.
Positive impact — We believe that people are our biggest asset. Join us today